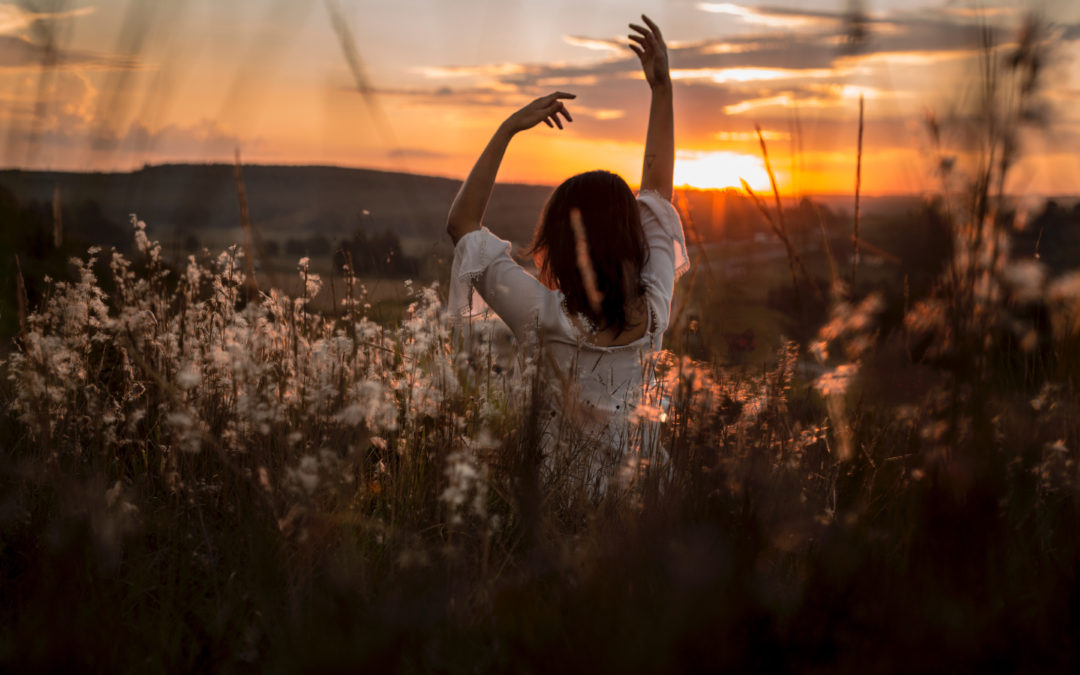 Developing a sense of connection to ourselves is about having a stronger sense of awareness of who we truly are.  Our unique strengths, gifts, and ideas.  It means going within and not looking outside of ourselves to fill the sense of connection. Often we look to the outer word to fill the void we are feeling within.
We are so busy, distracted, stressed, overwhelmed. We connected to our phones, our email, social media. We are living in a world of information overload. We are looking externally for connection and validation. The external ways of connection are getting stronger and stronger. It can be easy in these times to feel a loss of connection to ourselves.
Take a moment to disconnect from the busy world around you. Stop to ask yourself to do you feel connected to yourself. Do you go within to connect to who you truly are?
If you feel an urge to reconnect with yourself read on! I got five practices for you to get you back on track and feeling more connected to yourself.
Connect with you
A simple practice to use to reconnect with yourself:
Place your hands and your heart and take a few deep breaths.
Close your eyes and go within.
Come back into balance with you. Feel yourself in your body.
Feel the connection with your mind and spirit.
Allow yourself to breathe for a moment.
Reconnect with yourself relax and allow yourself to have this moment of connection to you.
Ask yourself:
What I am feeling at this moment? Just noticing as you become aware of how you feel in the moment.
Asking How does my body feel at this moment? Again, just noticing the body in the moment.
Taking some time to breathe and connect with yourself, your soul, the deep sense of yourself.
Connect with your mind
Becoming aware of your thoughts is a powerful way to reconnect with your mind.
Are you filling your mind with useless thoughts that get you nowhere? Become aware of the thoughts that are going through your head.
Connect and listen to the constant chatter of the mind.
Lately, I have been setting a reminder in my phone to check in with my thoughts 3 times a day. I have become more aware of the useless through that were going through my mind. Once I connected with my mind and become more aware of my thoughts it's easier to start replacing the thought with more useful ones.
Try it for yourself.
Put a reminder in your phone connect with your thoughts 3 times a day.
Just listen and be aware of what you are saying to yourself.
Then start replacing the negative thought with a more positive thought.
I love to replace my negative thought with complete opposite positive thought.
Connect with your feelings.
It's easy in our busy lives to push our feelings aside and not be aware of our true feeling. We distract ourselves with the external that often we can forget to check in and feel what is going on inside of us.
To connect with your feeling try this.
Find a quiet place to take some time for you.
Become aware of your feels. Connect with how you truely feel.
Allow yourself to feel and be aware of what you are feeling.
Notice where you feel the feeling in your body. Notice how it feel in your body.
What emotions are you feeling?
Connect with all the aspect of how you feel. Go within and feel what you need to feel.
Now breathe deeply and allow yourself to release and let go.
Allow your body to release the feeling through the breath.
Allow the breath to calm the emotions.
Allow the mind to become clear with the breath.
Just keep breathing deeply until you become aware of the feeling moving through the body and releasing.
Connect with the breath.
Connecting with the breath is a powerful way of reconnecting with yourself, it's your life force.
Try this simple practice to connect with the breath.
Place your hand on your abdomen.
Start by observing your breath as you feel your belly rise and fall.
Breathe deeply – drawing in energy in through your navel.
Feel your abdomen expand and contract as your breath.
Feel your chest rise and fall.
Continue to breathe slowly and deeply. Paying attention to your breath.
How does the breath feel?
Allow yourself to breathe deeply to connect with the breath- your life force.
Breath and feel the connection.
Write about it.
Journaling is a powerful way to connect with your inner self. By journaling allows you to connect to your inner thoughts and feelings.
Take out your favourite journal, notebook or a blank piece of paper.
Find a quiet place and give yourself some time to go within to connect with yourself.
Ask yourself what do I need to know?
Free write
Try not to edit or overthink.
Allow the words to flow out of you and on to the page.
If you can't find the words, try drawing. You don't have to be an artist. No judgement!! Just allows what needs to flow on to the paper to come out.
Enjoy this time to connect with your inner being.
A beautiful reminder about connecting to finish with
"Disconnect to reconnect".
Let try to disconnect from the external world occasional so we can reconnect with ourselves.
I hope this served you and helped you bring more harmony into your life.
I have recorded a special gift for you on my resource page.
You can download you're a free guide practice that will help you reconnect with yourself. Reconnect with yourself